electrail Kit 20
Motorization for bicycle trailers with a wheel size of 20 inches and wheel mounts with two dropouts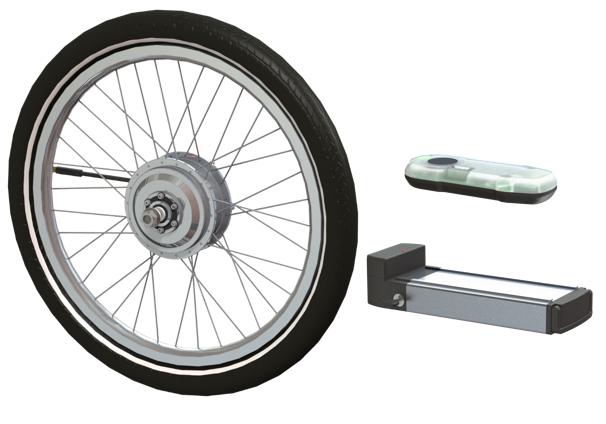 Description
The electrail kit is available with wheel sizes of 16 and 20 inches. Everything you need to convert a trailer is included (see below, scope of delivery). Prerequisite: the wheel mount of the trailer is not a quick-release axle. The rear wheel must be mounted between two dropouts. A nut is tightened to the left and right of the wheel to secure it. The e-box fits in any trailer and the pedal radio is attached to the inside of the left pedal crank. The team is now ready for operation.
The following trailer models can be motorized with the Kit 20:
Roland Der Roland (Tiefdeichsel), Jumbo, Profi, Big Boy (jeweils mit Tiefdeichsel)
Do you want to retrofit another model? We are happy to check the feasibility. A photo of the wheel on the drawbar is sufficient, alternatively the model name of the trailer. We do not recommend our drive for models with a high drawbar and attachment to the saddle tube or luggage rack.
Technical specifications
Installation dimensions drive wheel 16 or 20 inches
Installation width 10 cm
Axle slot 1 cm
Dimensions e-Box L x W x H
43 x 15 x 7 cm (housing end 11 cm)
Weight
Drive wheel with wheel hub motor: 3.9 kg
electrail e-Box: 4.4 kg (3.6 kg battery)
Weight pedal radio: approx. 15 g
Total weight: 9.3 kg
Battery operating voltage
max. 42 V, min. 30 V
Battery capacity
13 Ah, 480 Wh
Rated power drive
250 W
Maximum supported speed
25 km/h
Range
> 50 km (average load / distance)
Dimensions pedal radio L x W x H
62 x 28 x 10 mm
Operating time pedal radio, fully charged
ca. 24 h
Transmission frequency
2,4 GHz
Wireless range
ca. 5m
Scope of delivery
electrail e-Box
Drive wheel with wheel hub motor, Schwalbe Big Apple tires
Charger e-Box 4A with fan
Schlüssel für e-Box
electrail Pedalfunk
electrail link (USB charging adapter for pedal radio)
Fastening elements for the pedal radio
Units in box: 1