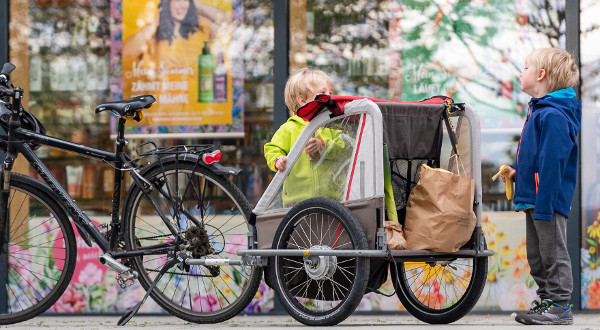 "My husband and me enjoy biking and therefore we purchased good bicycles. We live on a mountain, but kindergarten and shops are located downhill. When we started a family, we were looking for a solution for the daily trips to the kindergarten and the shops - if possible without a car. Therefore, we installed the electrail solution in the bike trailer we already owned. It works out so well that we even sold our second car. One time, I had the children and the shopping in the trailer, when my husband tagged along as well, due to a foot injury. We managed to drive up the mountain and bystanders could not believe what they saw. They were impressed by my alleged fitness and appalled by the supposed chauvinist behaviour of my husband."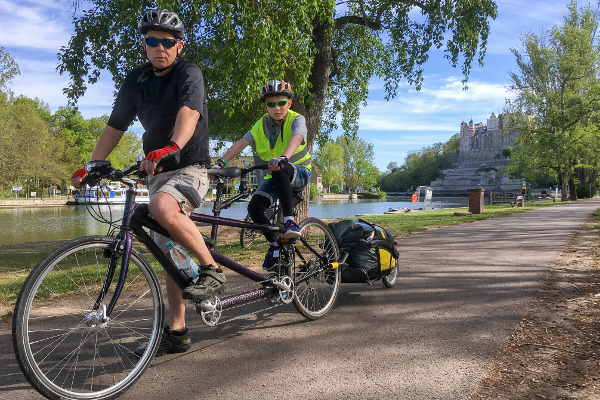 "The quickest way home from work is via a 4km long slope with an increase of up to 15%. That was the reason for me to search for an e-drive. A random encounter with a hobbyist made me look for a professional solution. I found it in electrail and it proved itself far beyond the daily commute. As a family, we often travel with two tandems. Our ToPeak Journey with the electrail drive not only increases the luggage capacity but also the daily distance."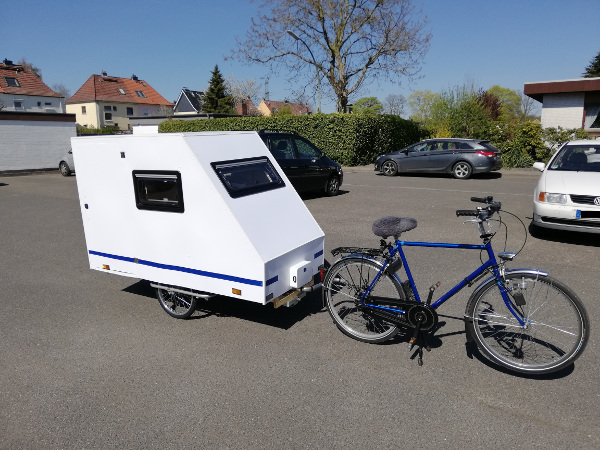 "When I was on a camping holiday, I had the idea of camping by bicycle and bicycle caravan instead of with a car and caravan. I actually found several providers of bicycle caravans on the Internet. For me as a fan of the 80s/90s, however, they were out of the question in terms of design. As a hobby designer I decided to build my own. For this I got the chassis of a robust bicycle trailer (Bluebird) and designed my own bicycle caravan - inspired by a toy car team - a Golf 1 with a Viking caravan. Electronically, it is more modern, with interior lighting and a USB connection for charging your smartphone, powered by a power bank.
Then there was the question of how to move the trailer - the trailer weighs over 80 kg unloaded. So a drive was needed. Of course, I didn't want to motorize my originally restored 90s Künsting bike or even exchange it for a pedelec - sin, breach of style!. When I came up with the idea of motorizing the trailer, electrail was quickly found. Now everything is ready and the test drives went well. I'm looking forward to some shorter trial trips and a big trip to the Ekeberg campsite in Oslo in the summer."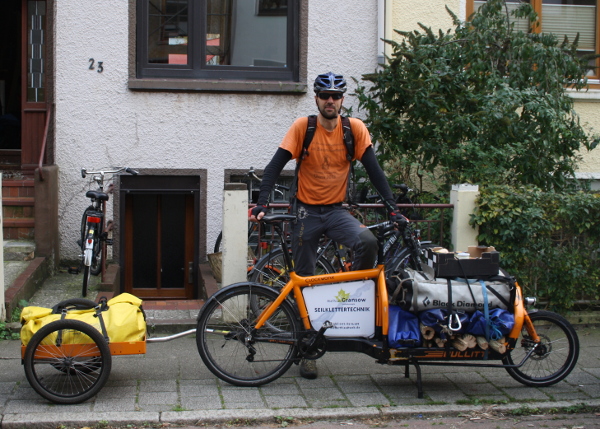 "I am an arborist and industrial climber in Bremen and the surrounding area. As a keen cyclist, I also wanted to make my work car-free. However, due to the weight of the extensive equipment and tools, I had reached the limits of my cargo bike. That's why I was looking for a solution with an e-drive that I could combine with my cargo bike. I was delighted when I came across the electrail drive and bought it together with a Nachher trailer. The trailer gives me extra loading volume, and the motor allows me to drive with more weight and over longer distances at the same time. If I don't need the trailer at the moment, it's quickly detached and I drive "rearless". I did a lot of research before I bought it and I haven't come across a better solution to this day."